2 Part Posture Clinic with Griet Devriese and Tiffany Hippe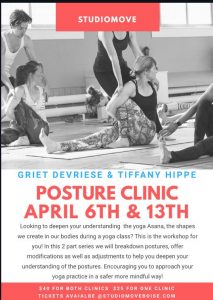 April 6th & 13 4:00 PM – 5:30 PM
Looking to deepen your understanding the yoga Asana, the shapes we create in our bodies during a yoga class? Griet Devriese and Tiffany Hippe will help you with just that! This is the workshop for you! In this 2 part series we will breakdown postures, offer modifications as well as adjustments to help you deepen your understanding of the postures. Encouraging you to approach your yoga practice in a safer more mindful way!
$40 for both Clinics, $25 for one
Tickets available @ StudioMoveBoise.com
StudioMove Members receive 10% off workshop prices! Register Here
6 Week Contemporary Session w/Casee Hogg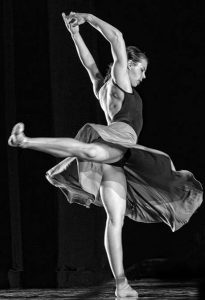 April 10- May 15 6:15 PM –
Beginning April 10th – May 15th 2019  StudioMove will be offering an 6 week Adult Contemporary Intensive. This class will include strength, conditioning, yoga,and building on 2-3 combinations during the 6 week session. Ideal for Beginner/Intermediate adult dancers who have had some dance experience. To reserve your spot for this class, click the link provided, space is limited!
Full Moon Candlelight Flow Series
April 19 & May 18
Each month on or near the full moon we will be offering a special Full Moon Candlelight Flow Class. Come to your mats to dive deeper into the energy surrounding each months full moon. A 90 minute class that will leave you grounded, centered, and energized. This class is included in your membership or any current class packages. Non-members can pay the drop in rate $18 or purchase the new client special for $35 unlimited classes for 30 days!
Breaking Down Your Chaturanga
May 4th: 4PM-5:30 PM
In this 90 minute workshop with Emily Garringer, RYT-200 you will find strength and form to help with a challenging posture, Chaturanga. We will break down the postures of our flow, chaturanga, upward facing dog and downward facing dog. Helping you to gain awareness of these shapes in your body, as well as promoting a safer practice.