BACK TO SCHOOL is here, the weather will soon be changing and StudioMove has some new NEWS to share with all of you! Have you registered your kiddos for our fall/winter dance session yet? If you haven't, YOU BETTER! We are already filling up fast, space is limited AND classes begin Sept 9th so don't miss out on our amazing youth dance program! Be sure to check out our youth schedule Below and give us a call so that we can help with your registration! 208-871-9129
2019/2020 Fall/Winter Youth Schedule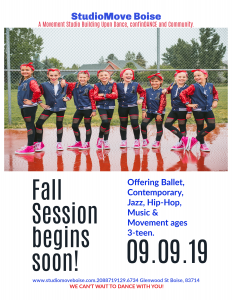 Sure, you may be skeptical and wondering which is the best activity to register your children in this fall and winter because there are SO much to choose from….AND WE COMPLETELY UNDERSTAND! Here is an article I recommend that you read, sharing the benefits of dance and keeping our youth active during the school year!
Dancing Can Keep Your Kids Focused in School and Improve Performance
ADULT CLASSES:
We have some new youth AND adult classes coming to our studio this fall and we are THRILLED to be offering them as well as adding to our amazing instructors! Both schedules will go live on Monday Sept 9th so be sure to download the MindBody app and get familiar with our schedule AND to book classes! I don't want to spoil the surprise…..but I'm horrible at "NOT SPOILING SURPRISES!" Did you hear we will soon be offering Buti Yoga, Hip-Hop Flow Yoga, Adult Ballet, Adult Hip-Hop AND Moulin Rouge Burlesque…..that's right…..we are spicing it up a bit so get ready!!
2019/2020 Fall/Winter Adult Schedule 
Click here to book your classes and remember…..YOUR FIRST CLASS IS ALWAYS FREE at StudioMove!
https://clients.mindbodyonline.com/classic/ws?studioid=595472&stype=41&sTG=22
NEW STUDENT INTRO:
We have a new "New Student Intro" that's available to you today! Receive 2 full weeks of unlimited class for just $20! This gives you the perfect opportunity to come try us out, figure out what you love and to meet our growing community…..which are all AMAZING BTW! Two weeks of adult dance, barre and yoga…..YES PLEASE!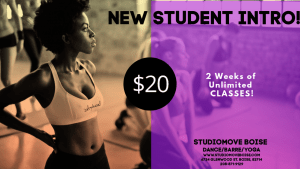 Click here to get set up! https://clients.mindbodyonline.com/classic/ws?studioid=595472&stype=41&sTG=22&prodId=100050
NEW POLICY!
Beginning NOW, our new studio policy is as follows: If no-one is registered through MindBody 1 hr prior to a class starting, we will cancel the class on MindBody to avoid any unnecessary travel for our instructors. If there is only 1 participant registered for class, the instructors may call or text you to see if you would like a class or if you would rather re-schedule for a different class with additional attendees. Be sure to sign up for your classes ahead of time and if you haven't done so already, download the MindBody app so you can stay up to date with our weekly class schedule!
https://clients.mindbodyonline.com/classic/ws?studioid=595472&stype=41&sTG=22
STUDENT CLASS PASS:
StudioMove now offers a "Student 10 class pass!" for just $75. In-store purchase only and must show high school and or college ID at the time of purchase. This is a perfect way to keep moving with us while keeping it affordable and doable with a busy school schedule! For ages 16 & up. DISCLOSURE: Our "Student Class Pass" is for our teen and adult classes only. Our adult classes are for ADULTS and we do not edit our music or moves and are for mature participants. StudioMove creates a safe non-judgmental atmosphere for adults to come and enjoy movement with no pressure. We encourage self confidence, self awareness and an amazing experience!!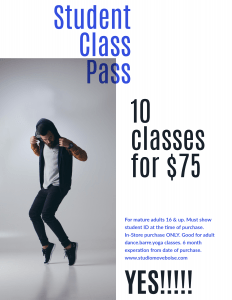 Thanks to all of you who continue to support our studio! Help us spread the word, invite your friends and keep coming and enjoying our classes! We hope you have a great start to your school year and we look forward to an exciting 2nd year at StudioMove!
Hugs and Gratitude,
Tawnya