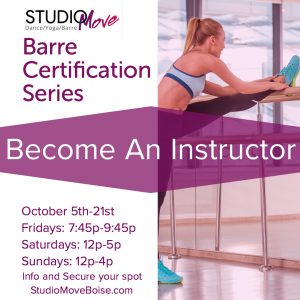 Studio Move is excited to announce our 3 Week Barre Teacher Training coming this October!
This method was created by a dancer and inspired by music, Pilates, and yoga.  If you love movement, music, the strength and power of Barre and want to share it with others, this training is for you!
Meeting times at Studio Move: 6734 N. Glenwood Ave, Boise, ID
Mark your calendars for the following M/W/F in October:
October 5-21st
Friday's 7:45pm-9:45pm
Saturday's 12-5pm (noon barre class included)
Sunday's 12-4pm
Price $895
Includes a manual, and an outline of a Barre class to teach from that can be used at other studios.
Learn teaching techniques like musicality, cueing, and anatomy.
Free Barre Classes at Studio Move for the duration of the training.
REQUIRED: $300 non refundable deposit to secure your spot due by Sept 28th.
Register Here:
Down payment required by Sept 28th: