It's COLD Outside, But HOT in Here!
Join us tomorrow morning for our Thanksgiving Day Workout. We've got 3 great classes lined up– take 1 or all 3! Reserve your spot here. (Scroll down and take the link for more deets.)
THANKSGIVING WORKOUT! Register Here: LINK
DID YOU KNOW???? How many calories IN AN AVERAGE Thanksgiving Dinner? ….a whopping 4,500 calories!! Let us help you burn a few of those off! Join us for one or all 3 classes before you over indulged in all the festivities! You must pre-register at the link above to guarantee your spot! Space is limited. Proceeds go to support the Idaho Food Bank and City Lights Women & Children's Shelter! Grab a friend and come Earn your pie with StudioMove!!
8am OULA (New high energy, fun class)
9am Barre Burn/Sculpt
10am Hip-Hop Dance Fitness
1 class $12
2 classes $15
3 classes $20
New classes coming up…….
Beginning NEXT week we will be offering OULA on our schedule:
OULA Dance Fitness!! 
A high energy, fun workout that will have you smiling, laughing, and sweating. Checkout their video at the bottom of this email. The ladies are sooooo fun!
Tues 9:30am
Thursdays 5:40pm
Saturdays 11:30am
Sign up here
Hot Yoga and Hot Barre? Yessssss Please!!!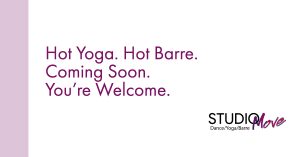 Beginning in January our schedule is going to be even more amazing and we are making it even HOTTER:
We will be offering HOT Yoga, Vinyassa, Zin and HOT BARRE classes! We are currently in the process of hiring additional staff and creating our new schedule. If you haven't already taken advantage of our new client special, you can do that right now by clicking here. Clients with current packages will be the first to know when we start offering Studio Move Boise Memberships which allow you access to exclusive info and to sign up for classes before anyone else!