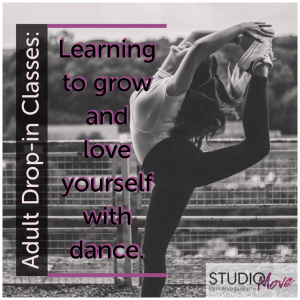 Learning to grow and love yourself with dance.
If you're looking to build more fun into your fitness routine, meet some new people, expand your mind and have some fun, join us for a dance class! You'll get to enjoy the music, build memory muscle and stretch and flex your body in ways that weights and cardio can't touch.
Benefits of Dance Fitness
Dance is a great way to beat the stress of daily living. Whether you want to try ballet moves at the Barre class or are ready to combine exercise with feeling beautiful in Studio Move Burlesque, a dance class offers the chance to focus your mind on something totally new.
If your exercise program has become routine, you may find yourself dwelling on negative thoughts or stressful situations while you engage in your exercise "habit." By breaking up the habit with new dance steps in the REFIT class, you can focus on the music and the movement.
Dance breaks your habitual exercise practice and forces your brain and body to focus on new thoughts, movements and steps. Leave your worries behind, burn some calories, get your blood moving and have some fun!
Music For Everyone
Why not join us for Country Heat? Take the music you love off the radio and put it to work in the dance studio!
For those who need something a bit more modern, try the Jazz-Funk class for great stress relief and an energy boost that will last for hours. No matter your favorite tunes, we can help you move to them.
From formal moves at the barre to country line dance to hip hop to modern dance, our classes are designed to help you enjoy the power and beauty of your own body. You can get your confidence back, build strength and increase your cardio capacity by moving to the music.
Moving your body to music is as old as humans themselves. We have told our stories through music and dance for generations. If you're ready to get up and get moving but struggle to find an exercise class that appeals to you, join us and build your ConfiDance!
Dance Benefits For All Ages
Dance is great for your brain as well as your body. The benefits of exercise in fighting dementia are well-known, but did you know that dance can help you build new neural pathways?
Learning new dance steps can be a brain building exercise. Physically, the challenge of learning new dance steps can help you build and maintain muscle, elevate your heart rate to a healthy (and calorie burning) level and improve your balance.
If your plans for retirement include trying new things, take a dance class with us! We can make the idea of "move it or lose it" fun.
No Judgement
If you've been told you've got two left feet, or if it's just been a while since you exercised, our studio is a safe place to work out. We offer women's fitness class options if you prefer a bit more privacy.
Our Studio Move Burlesque class is a terrific option for those ready to up their dance game while feeling beautiful and a bit sexy. These movements require no special costumes or props; just try some new steps and enjoy the #confidance boost!
In addition, our adult drop in dance classes are designed for everyone who just wants to move to the music! At StudioMoveBoise.com, the outcome is wellness and confidence and the goal is fun.
Our Schedule Works With Yours
No matter how much you have to do, our classes start at 9:30 and run until late in the evening. We can help you build a fitness program full of fun and variety.
If your exercise routine is feeling a little tedious or if you just want to move some new muscle groups, dance fitness could be just the class to get you to a new level of health! You can build your confidence, stretch and flex your body, improve your balance and build new brain power. Dance classes aren't just for kids anymore, so get ready to move to the music and join us for a brand new workout!
Here's a link to our class schedule: https://studiomoveboise.com/schedule/
Here's a link to the class descriptions: https://studiomoveboise.com/adult-classes/