Our Barre Burn and Barre Sculpt Classes Will Benefit you in 5 Important Ways
Whether you are trying to slim down to fit into your wedding dress, or you just want to feel fit and healthy again, there are few workouts better than a barre burn class. This ballet-inspired fitness phenomenon features small, isometric movements that help to tighten and tone your core.
Here at Studio Move Boise, our team of expert instructors has seen the huge impact that barre can have. Aside from just generally feeling better about yourself, there are five really important ways that barre can benefit you:
Improved Posture
We often hear that people spend too much of their day slouched over looking at their phones or computer screens. However, by joining a barre class, you will soon notice that your spine begins to feel straighter and better aligned with the rest of your body. Barre can, quite literally, help you to stand a little taller.
Increased Flexibility
Though you certainly don't need to be a gymnast to begin taking barre classes, you might begin to feel like one after a while. While many workouts focus on either strength or flexibility, barre focusses on both. You'll soon find yourself bending in ways you didn't know you could!
Low-Impact
When they hear the word "workout", many people instinctively think of activities like jogging and jumping. However, these exercises are very high-impact and can lead to serious knee and joint pain in the long run. However, barre is low-impact – meaning it is much gentler on your joints. If you want to work up a sweat without hurting your joints, barre is the workout for you.
Low Injury Risk
The low-impact nature of barre isn't just good for the long-term health of your joints – it also helps to prevent injuries in the short-term. This makes barre an excellent option for everyone.
Fun and Social
Not only is barre a fantastic way to get fit and healthy, but it is also a whole lot of fun. You can gather a group of your closest friends, head to a barre class, turn on the music, and get those endorphins pumping. Barre helps you get fit and hang out with your friends – what's not to love?
Studio Move Boise
Now that you know a little more about the wonderful benefits of a Barre Burn or Barre Sculpt class, you must be wondering where you can find one. Well, look no further than Studio Move Boise. Our wonderful team has been leading dance fitness classes in Boise, ID for years, and would love to have you join us for a Barre class.
Our owner and founder, Tawnya, has been in the industry for more than two decades. Having spent several years as a professional dancer, Tawnya decided to turn her attention to instructing. It is here that she developed a reputation as a creative and cutting-edge dance artist. As a result, Tawnya's classes are always fun, unique, and original.
Throughout her career, Tawnya has trained at some of the top studios in the United States, including The Edge Performing Arts Center, Millennium Dance Complex in Los Angeles and Salt Lake City; and is still actively supporting drop-in studios in cities across the United States.
No matter what fitness level or stage of life you are currently at, joining a barre class could just be one of the best decisions that you ever make. Get fit and have fun by joining a class at our studio today! Here's the schedule. 
Don't forget you can always find us on the MINDBODY APP for our latest classes and to reserve your spot!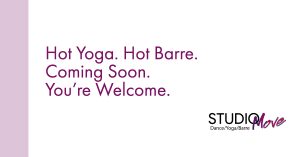 And coming in January, we'll be turning up the heat in yoga and Barre….. get ready for Hot yoga and Hot Barre! You may want to secure our current offer $35/unlimted classes to start checking out all the different classes we offer and come see us in January when we turn it up even hotter!